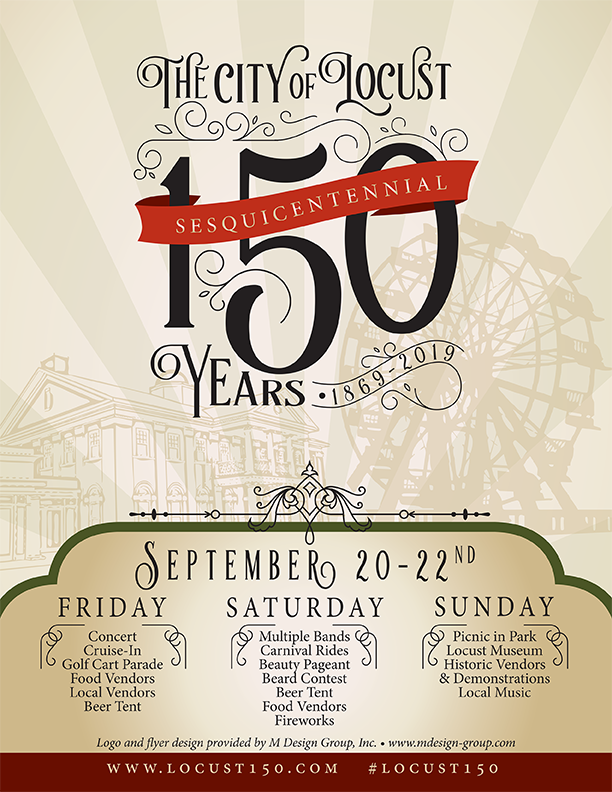 Locust will celebrate its 150th anniversary this year! (1869-2019) The celebration will take place September 20-22nd.
Friday 20th:
6:00 – 9:00 PM
6:00 PM Right Turn Clyde performance
Cruise in, golf cart parade, food vendors and breweries, inflatables
Food Vendors: The Lemonader, Tropical Sno Shaved Ice, East Coast Tasting food truck
Saturday 21st:
12:00 – 9:15 PM
12:00 PM Arnold Hill Performance
FREE Carnival Rides and inflatables open
2:00 PM Beauty Pageant
4:00 Pm Valhalla Performance
6:00 PM: The Tams Performance
9:15 PM: Fireworks
Food Vendors: The Lemonader, Tropical Sno Shaved Ice, East Coast Tasting food truck, Emricci's Pizzeria, Wilson's Funnel Cakes
Sunday 22nd:
12:00 – 4:00 PM
12:00 Picnic in Park
Vendors, demonstrations, Inflatables, Museum open
Food Vendors: The Lemonader, Tropical Sno Shaved Ice
Links to participate:
Order a t-shirt online or stop by MacGraphix store in Locust
Golf Cart Parade Registration
Volunteer Sign Up
Vendor Forms
Sponsor Form
Beauty Pageant
Cruise In Details:
The Cruise in will take place Friday evening during the 6:00-9:00 PM event.
Classic cars, hot rods, motorcycles, and new cars are all welcome to participate.
Cars participating in the cruise in will park behind Pinnacle Bank.
Parade Details:
The parade welcome golf carts, gators (or like vehicles), and walking groups.
The parade staging area will be in the grassy lot, across from the Veterans Memorial in Locust Town Center.
Participants should arrive to the staging area by 7:00 PM. The parade will begin at 7:30 PM.
The route will start by passing in front of Locust City Hall, then past the library, through the Town Center Homes, onto Smith street then trough Charleston Place, looping back into Town Center homes, through the Medical Pharmacy parking lot, past Pinnacle Bank and Ace Hardware, then back towards City Hall and into the same staging area.
Participants must register online but do not need to be registered with the Locust Police Department
Pageant Details
The Little Miss Locust Pageant features 3 age groups and will crown winners in each group and an overall "Little Miss Locust."
The pageant will begin at 2:00 PM on the back porch of Locust City Hall.
The Beauty Pageant Contestants will prep for the pageant in the Joel Huneycutt Community Room next to Locust City Hall. The room will be open as early as noon on the 21st. Contestants will hold in the room before and during the pageant.
The pageant is sponsored by DAE Salon.