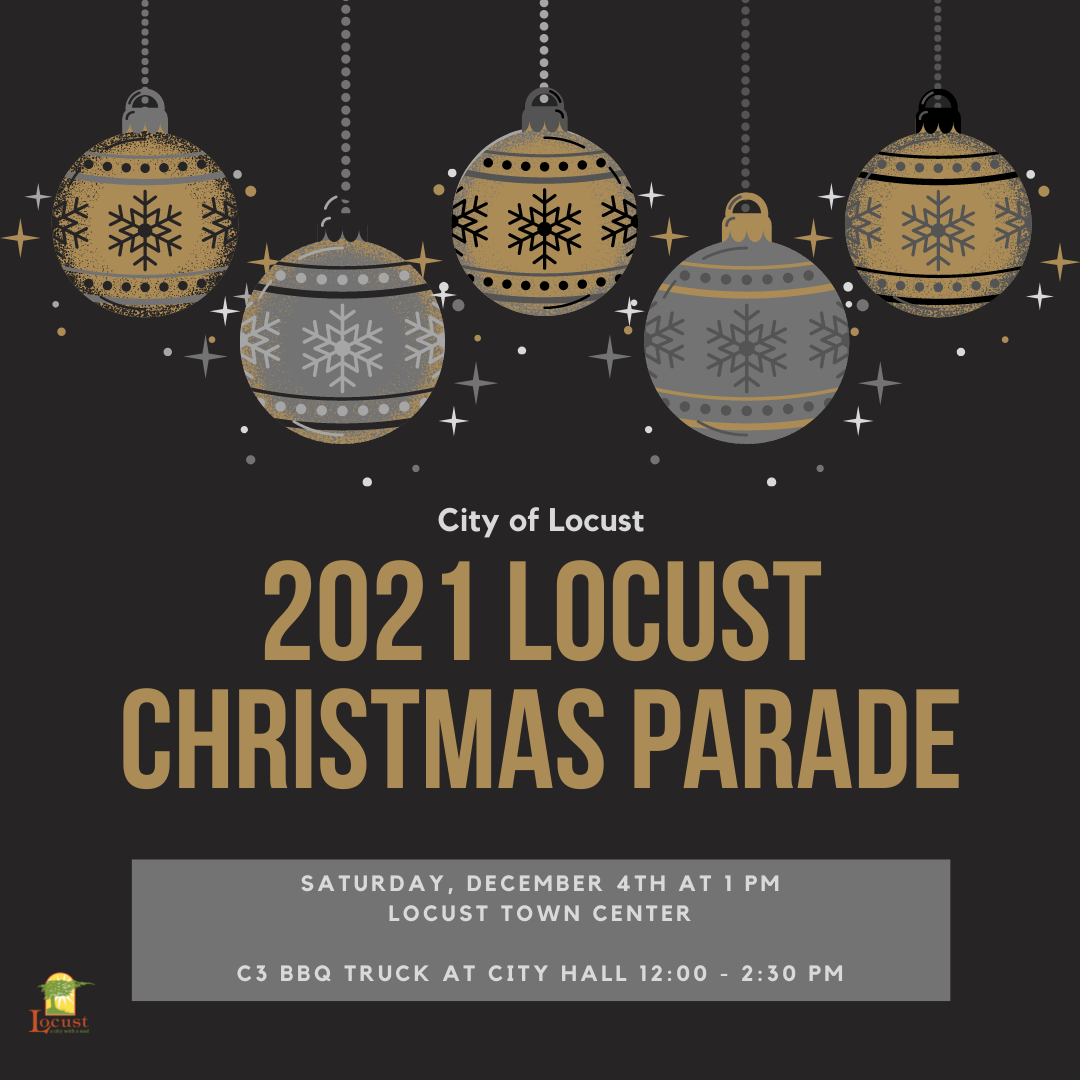 The City of Locust is proud to host the 2021 Locust Christmas Parade on Saturday, December 4th at 1:00 pm!
The C3 BBQ Truck will be at Locust City Hall from noon until 2:30 PM to serve lunch to parade guests.
---
GRAND MARSHALL
We're excited to have Mrs. Myrtle Mae Barbee Tucker as grand marshall of the 2021 Locust Christmas Parade.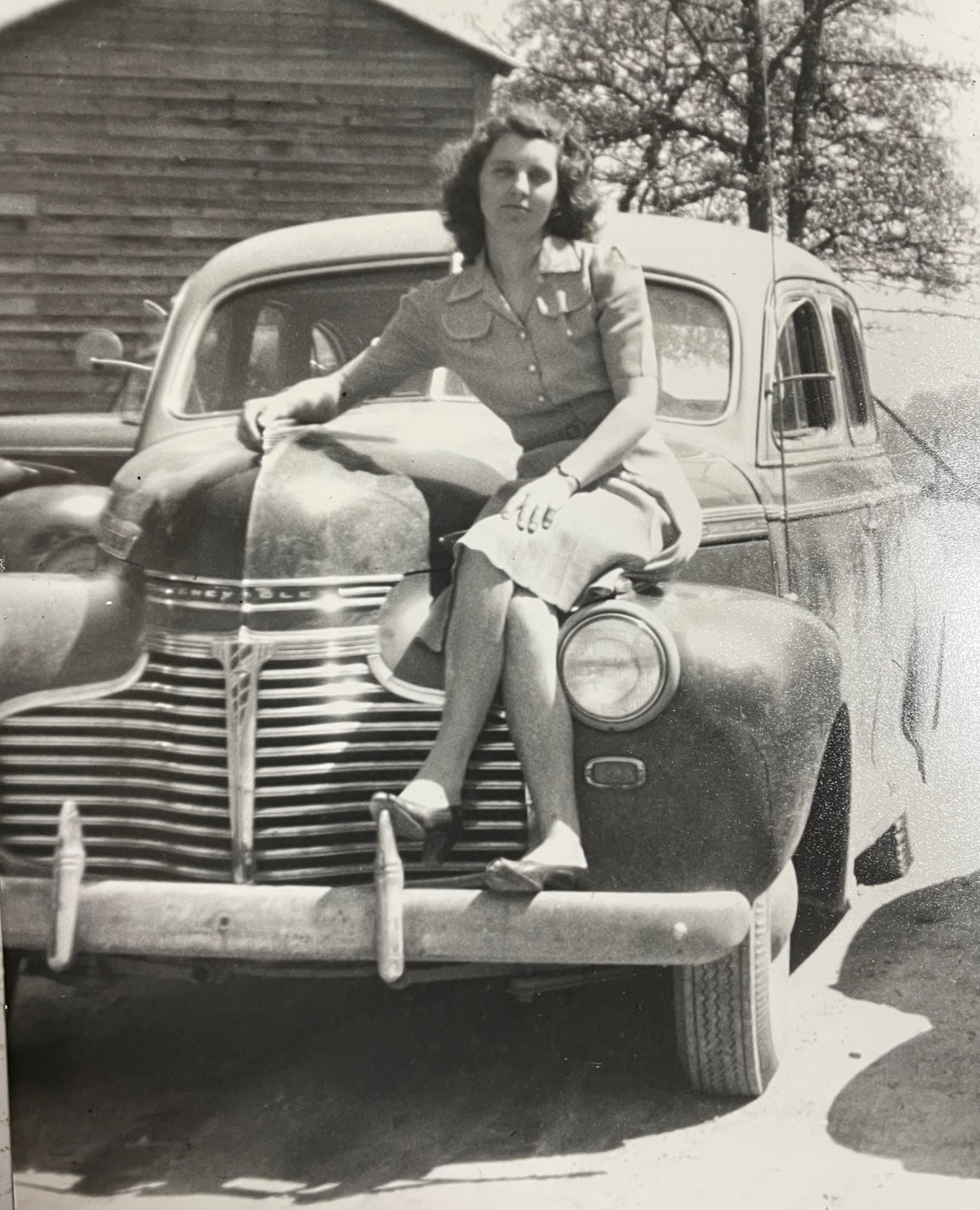 About Myrtle:
101 yrs old
DOB:  November 10th 1920
Life time resident of Locust, NC.
Husband was the late Willie Brown Tucker also a life time resident of Locust, NC.
Oldest daughter of James Carlos Barbee and Lula Belle Eudy Barbee.
Siblings:   Roy Barbee, Tommy Barbee, Pete Barbee, Margie Barbee Thomas, (all deceased), and Charlie Webster Barbee current and lifelong resident of Locust, NC.
Grand children:   8
Great grand Children: 15
Myrtle was a home maker until her husband Willie died tragically in a farming tractor accident.  Myrtle never remarried and raised 3 kids putting all three through college.  Her 3 children are Sharon Hinson and Rick Tucker residing in Locust and Bill Tucker residing in Unionville.  She worked in the Locust School cafeteria, Allison Manufacturing plant in Albemarle NC, and as preschool assistant at Carolina Presbyterian Church Preschool.
She was a communing member of Carolina Presbyterian church where she still is a member today. Prior to that was a member of Locust Presbyterian church.
Myrtle was born in a residence between Locust and Stanfield and raised in the heart of Locust on Elm Street where her youngest brother "Charlie" still resides on the family land just behind The Local Room restaurant.
She has been a pillar of the community for over a century. The Barbee and the Tucker families have been very instrumental in the forming and history of Locust since it was commonly known only as "The Cross Roads" in the 1800s.
When asked what contributed to her long life, she just smiles and says "hard work".  Her children say some stubbornness plays in there also.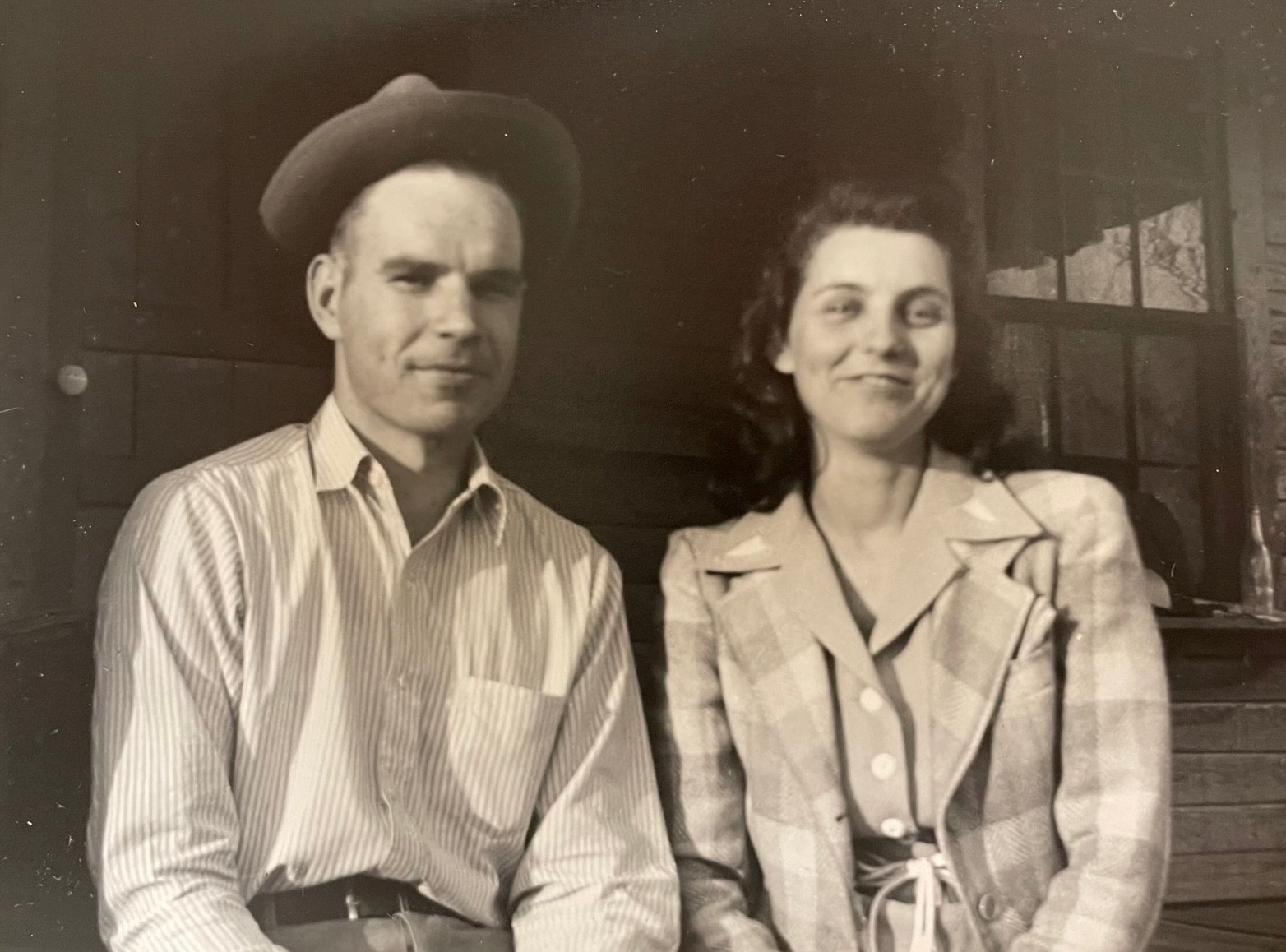 Myrtle with her husband, Willie
Myrtle celebrates her 101st birthday with her kids Bill, Sharon and Rick.
---
PARADE ROUTE
The parade route will begin at the Lion Club Dr Parking Lot, making a left onto Hwy 200, right onto Market St, left onto Ray Kennedy Dr, right onto Town Center Dr, right at Sassy Cakes Bakery, left onto Harrison, left onto Kerri Dawn Lane, right onto Kingston Dr, right onto Smith St, and ending back at the Lion Club Dr Parking Lot.
The City of Locust Parks and Recreation Department will begin seeking participants for the parade in the fall. Home designed floats, walking groups, golf carts, dancers, classic cars, equestrian groups, etc. are welcome! For more information, email events@locustnc.com.
Find ways to celebrate throughout the month of December by visiting the Christmas in Locust page!