Locust Park is located off of Highway 24/27, next to Locust Elementary School. The address is 2884 Park Drive, Locust NC 28007.
Additional parking is available via Lions Club Drive, off of Highway 200 N. (Use address 219 Lions Club Dr for navigational directions)
COVID-19 Update:
PLAYGROUNDS ARE OPEN but not sanitzied. Please use caution. Stay home if you feel sick.
Athletics Fields are open for reservations, following all social distancing guidelines set by the NCDHHS. 
Shelter reservations are unavailable at this time. Shelters are open on a first come, first served basis for individual or family use with less than 25 gathered together and following all guidelines set by the NCDHHS.
Water fountains are open only for the use of refilling water bottles.
Park public restrooms are open.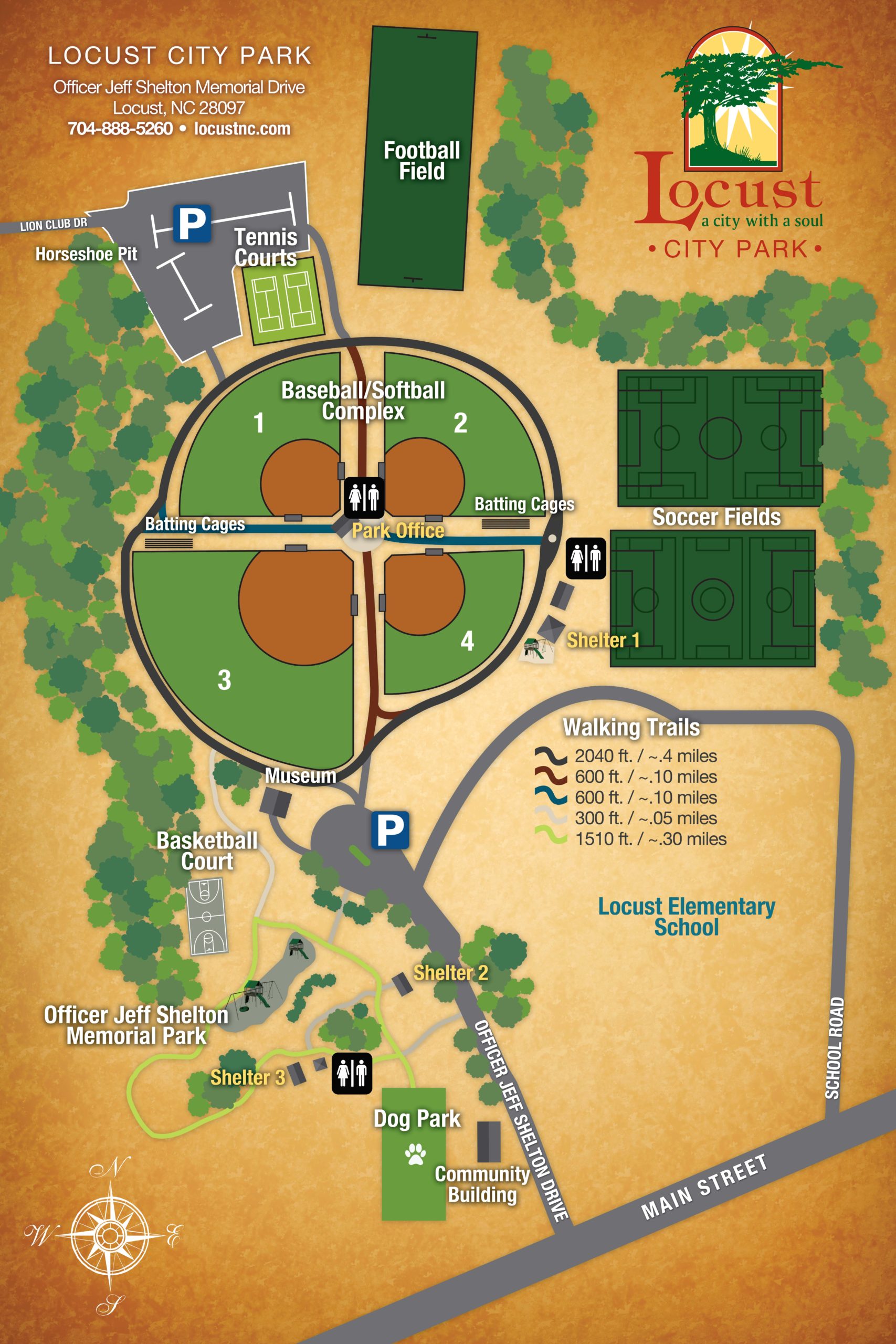 Facilities: (pictures below)
Community Building
Dog Park
Shelter 1
Shelter 2
Shelter 3
Baseball/Softball Field 1
Baseball/Softball Field 2
Baseball/Softball Field 3
Baseball/Softball Field 4
Football Field
Horseshoe Pits
Soccer Field Lower (a, b, c)
Soccer Field Upper (a, b, c)
Tennis Courts
(NO RESERVATIONS AT THIS TIME, DURING PHASE 2) To reserve one of our athletic facilities, please complete this form and submit to Locust City Hall (PO Box 190) or email to parks@locustnc.com.
Community Building

Dog Park

Park Shelters 1, 2, & 3

Baseball/Softball Field 1
Baseball/Softball Field 2
Baseball/Softball Field 3

Baseball/Softball Field 4
Football Field
Horseshoe Pits
Soccer Field Lower (a, b, c)
Soccer Field Upper (a, b, c)
Tennis Courts