Annual Bulk Goods Collection
The City of Locust has scheduled our Annual Bulk Goods Collection for Saturday March 10th, 2018. Items must be @ the curb by 8am Saturday morning to guarantee pickup. Below you'll see a list of items that will and will not be collected.
Items that Will Be Collected include:
-Household Furniture
-Large Toys (kiddie pools, playhouses, riding toys, disassembled swing sets)
-Mattresses/Box Springs (MUST be wrapped in plastic) and Bed Frames
-Rugs
Items that Will Not be Collected include:
-Construction and Demolition Debris
-Hazardous and/or Liquid Waste
-Industrial Waste
-Medical Waste
-Tires
-Computer/TV's/Electronics of ANY kind
-Major Appliances
-Recycling
-Yard Waste (leaves, brush, or stumps)
-Household Trash/Garbage
If you have any questions, please contact me, Tim Flieger, @ (704)888-5260 or feel free to email @ tflieger@locustnc.com.
Annual White Goods Collection
Scheduled for May 2018, check back for further details.
Annual Leaf Collection
Scheduled for November 2018, December 2018, and January 2019. Check back for further details.
Trash and Recycle Collection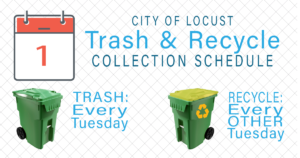 Recycling Collection Update