Annual Bulk Goods Collection
Scheduled for March 2019, check back for further details
Annual White Goods Collection
Scheduled for May 2019, check back for further details
Annual Leaf Collection
Scheduled for November 2018, December 2018, and January 2019. Check back for further details.
E-Waste Drop-Off Event
The City of Locust will be holding another E-Waste Drop Off Event. It will take place in the parking lot across from the Government Center @ 2-5pm on Thursday June 14th. For further details, please click here.
If you have any questions, please contact me, Tim Flieger, @ (704)888-5260 or feel free to email @ tflieger@locustnc.com.
Trash and Recycle Collection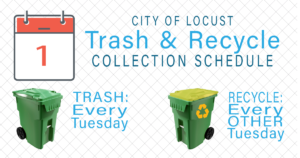 Recycling Collection Update