Park Events
Sock It To Cancer 5K Walk/Fun Run
Sprinkle & Splash Summer Events
Vendor and Sponsorship Information
---
Park News: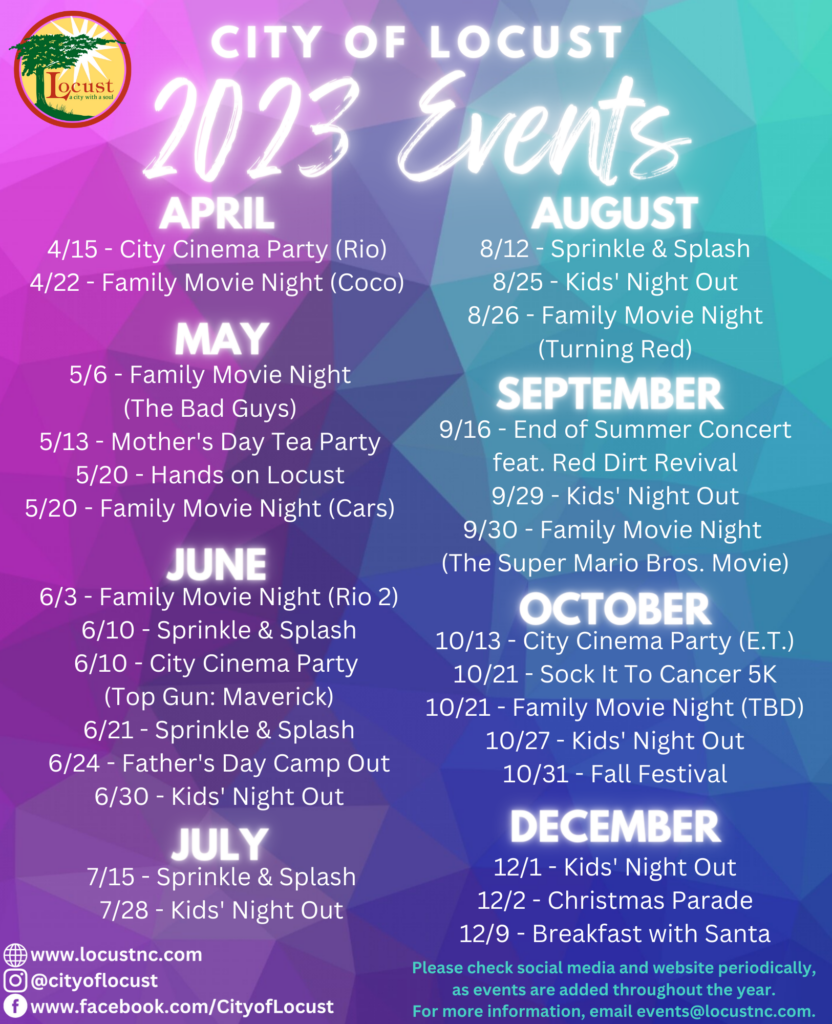 Park Events:
Sock It To Cancer 5K Walk/Fun Run
City of Locust is hosting the 2nd Annual Sock It To Cancer 5K Walk/Fun Run, benefitting Cindy's Hope Chest, on October 21, 2023, starting at 10:00 AM. The event will take place in Locust Town Center, starting at Locust City Hall. Registration will begin at 9:30 AM. Registration can be done online HERE prior to the event, prior to the event at City Hall or the morning of the event in person. There is no registration fee, but donations are accepted; the suggested donation amount is $5-$30 per participant. Donations can be brought to the event, with checks made out to Cindy's Hope Chest. If you prefer to use Venmo, a QR code will be available at the event. For more information, call 704-888-5260 or email Jessica Honeycutt at events@locustnc.com.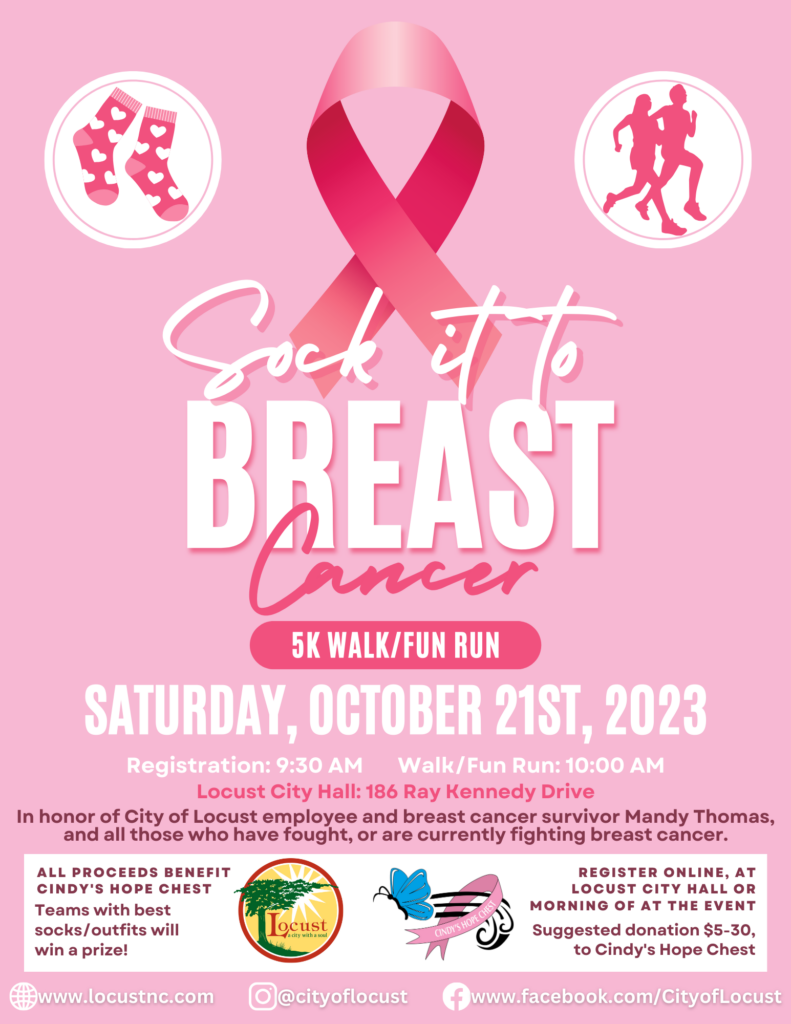 End of Summer Celebration
September 16, 2023
Red Dirt Revival will be the band performing for this year's End of Summer Concert. The concert will begin at 6:00 PM. There will be food and drink vendors present, as well as FREE access to a mobile rock climbing wall, inflatable obstacle course and bounce house/slide combo. Residents are invited to come for as long as they would like, bring chairs, blankets and yard games if they would like.
If you know of a business interested in being a sponsor for this event or if you are a vendor interested in having a booth at this event, please contact Jessica Honeycutt, Program Coordinator, at events@locustnc.com.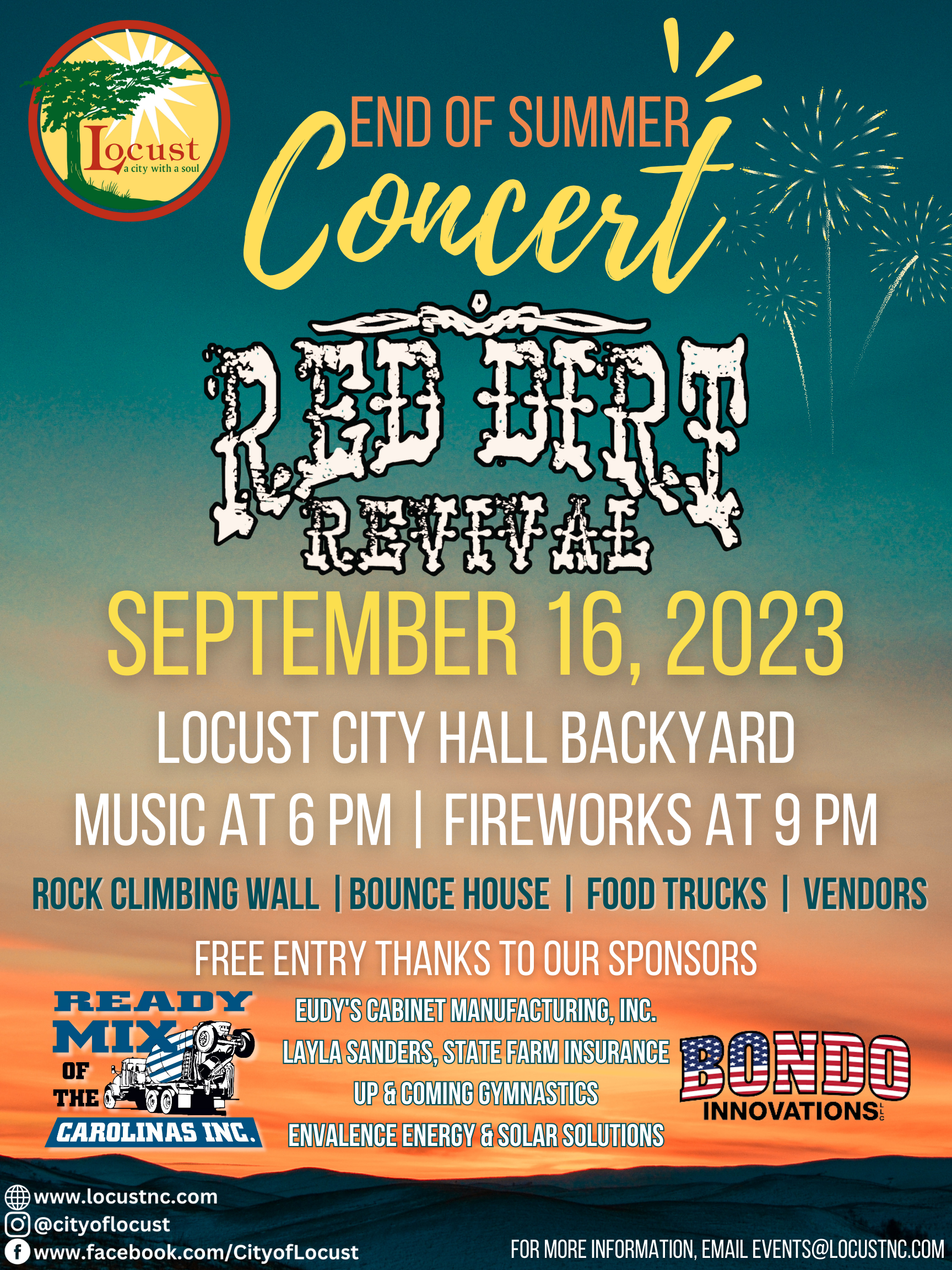 Without sponsorships from our local businesses, events like these could not be possible. The City of Locust would like to extend a huge THANK YOU to the following sponsors:
Event Level Sponsor: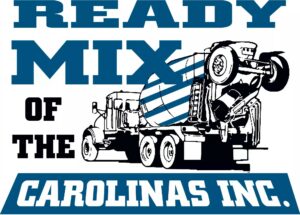 Concert Level Sponsors:
Celebration Level Sponsors:
Buzzed Viking Brewing Locust
C&C Fire Apparatus
Emricci Pizzeria
Hudson Property Services
Jeremiah's Italian Ice
Jimi Nelson with Fairway Mortgage
Kristen Huneycutt with Deeter Real Estate & Robin Davis with Atlantic Bay Mortgage Group
Locust Pediatric Dentistry
Power Home Remodeling
Rock Therapy
Tarheel Auto Sales
---
Campsites Opening Event
Please see the invitation regarding an opening celebration for the City's newest addition to the park, campsites!
The parks department will host:
J&M Food Shack food truck
Bayou Sno shaved ice truck
Rock Therapy Mobile Rock-Climbing Wall
Boy Scouts and Girl Scouts
Campfire and smores (free!)
Feel free to join us for the event or stop by another time to check it out!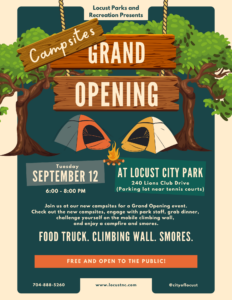 ---
Movies in Town Center
Our movie nights come in two forms: Locust Family Movie Nights and the Locust City Cinema Party.
The Family Movie Nights are family-friendly events that typically feature an animated film (usually G or PG-rated) and offer a kid-friendly atmosphere.
The Locust City Cinema Parties offer a date-night vibe, targeting a wider range of age-groups. The Cinema Party vendors include beer and wine and will feature blockbusters and classics (PG to R rated) popular among adults.
All movies are located behind Locust City Hall, start at sundown, and usually host pre-show activities, so not all start times are the same. Check the City's Facebook page for details as the movie dates approach
April 15th, 6:00 pm – Rio, City Cinema Party, with performance by NC Brazilian Arts Project
April 22nd, 6:30 pm – Coco, sponsored by Main Street Family Care with performance by El Alma de la Luna Dance Academy
May 6th, 7:00 pm – The Bad Guys, sponsored by Locust Pediatric Dentistry
May 20th, 7:00 PM – Cars, sponsored by Whitley Automotive
May 27th, 7:30 PM – Rio 2, sponsored by Mission Church
June 10th, 7:30 PM – Top Gun: Maverick, City Cinema Party, sponsored by: Buzzed Viking Locust, Locust Pediatric Dentistry, Layla Sanders – State Farm, Beane Swaringen & Co., PLLC, Red Bridge Golf Club, Top Gun Fitness Locust, Barbers at Town Center, Boss Paintball
August 26th, 7:00 PM – Turning Red, sponsored by Locust Presbyterian Church (providing free dinner, free rock climbing and free sno cones)
September 30th, 6:00 pm – The Super Mario Bros. Movie, sponsored by Mission Church
October 13th, 6:00 PM – E.T. The Extraterrestrial, City Cinema Party, sponsored by Buzzed Viking Locust, Locust Pediatric Dentistry, Layla Sanders – State Farm, Red Bridge Golf Club
October 21st, 5:30 pm – Frankenweenie, sponsored by Pinnacle Bank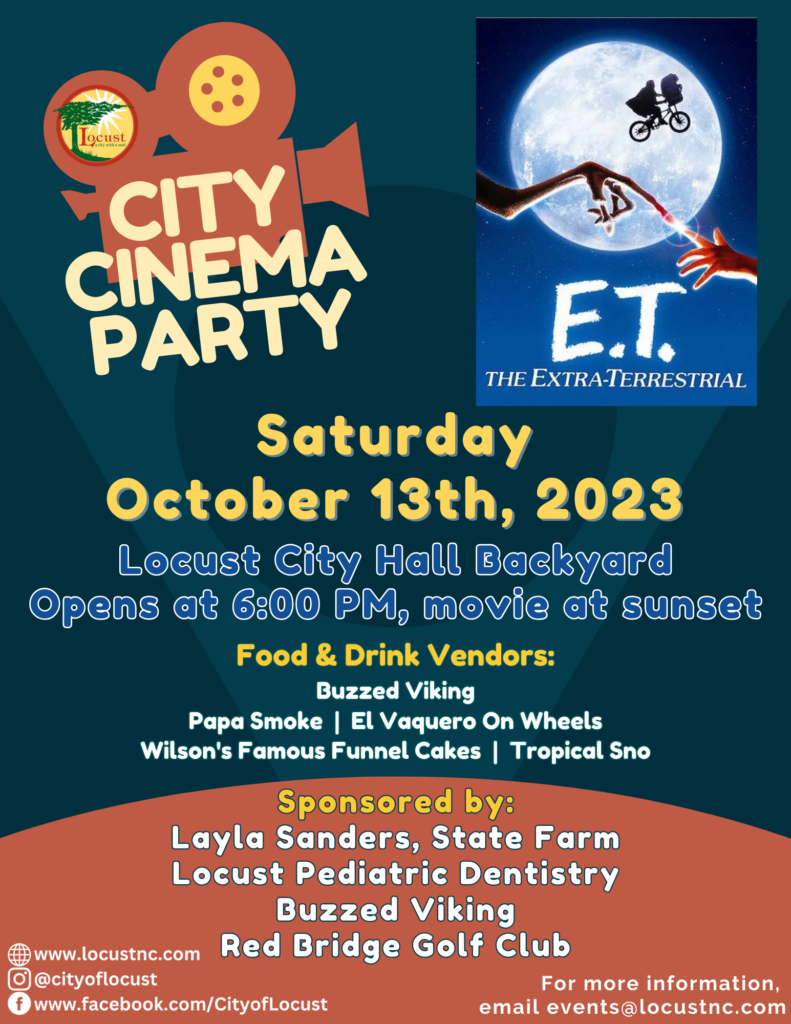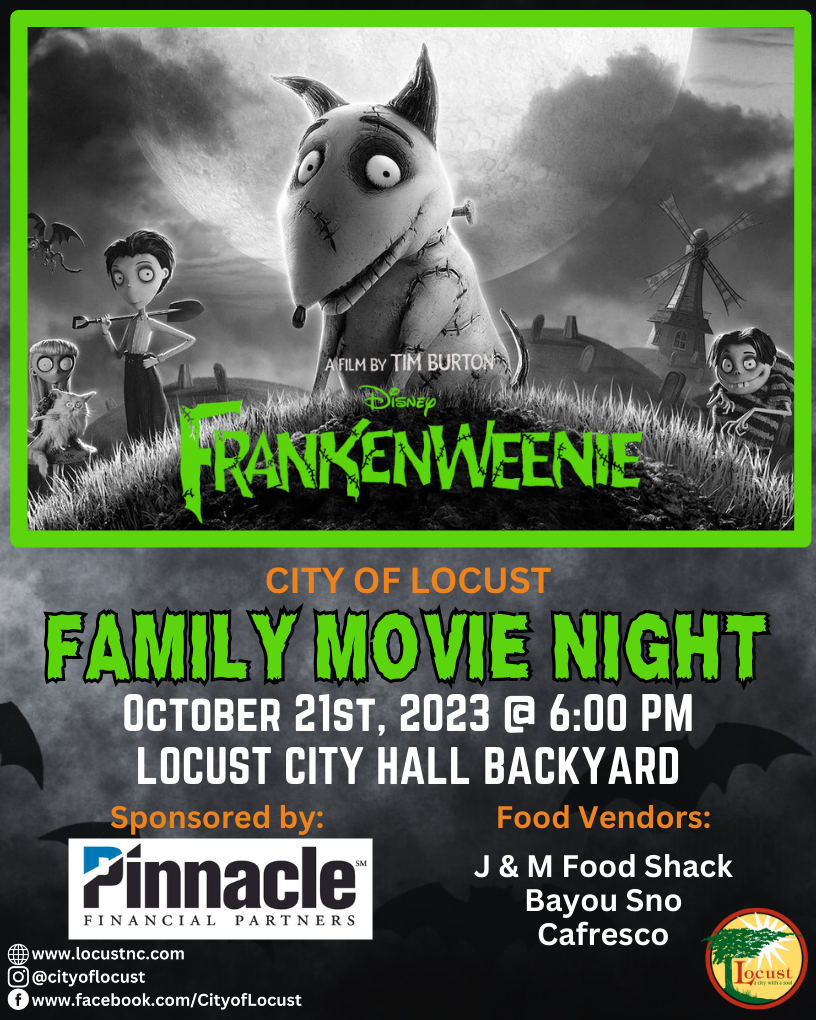 ---
Ballfield Fathers Day Campout
Registration will close Sunday June 18th, at 11:59 PM.
Event Hours: Saturday, June 24th, starting at 3:00 PM – Sunday, June 25th, through 10:00 AM.
The fee is $5/person and includes dinner Saturday, bottled water, games, smore's, outdoor movie, and breakfast Sunday. There is a $10 non-resident fee per family.
Families are invited to join us for a campout at the Locust Athletic Complex on baseball field 1. There are limited camp spots. Tent sites are 15×15 ft, but we'll likely have extra room if you need to accommodate a larger tent. These sites will not have electric. Registrants must provide their own tent, chairs, sleeping bags, lanterns, etc.
The Concessions stand will be open from 3pm-10pm, cash only. Park staff will be available, working concessions, hosting games and activities, until approx. 11 pm. Limited park staff will remain overnight at the Park Office. Park restrooms will remain open throughout the night.
Event Schedule:
Check in: 3-4 PM
Organized games: 5-7 PM
Dinner: 6-8 PM
Concessions open: 3-10PM
Smores @ 8:30 PM
Outdoor Movie: 9:00 PM
Lights out 11:00 PM
Breakfast: 7:30-9 AM
Check out by 11:00 AM

To complete registration through our secure site, please have your Visa, MasterCard, Discover, or ACH Bank Account information available. If you would like to pay by check, please contact Jessica Honeycutt BEFORE completing registration.
For more information, contact Jessica Honeycutt at events@locustnc.com or 704-888-5260 ext 116.
---
Muffins with Mom
May 13th, 2023; 8:30-10:00 AM OR 10:30 AM-12:00 PM
Join us to celebrate the special women in our lives (this event is for moms and their daughters and sons, so feel free to register for all)!
***Due to an overwhelming response, we have decided to make two sessions, and will have to cap each session at 60 participants. Please make your selection when you register. You will receive an email confirmation once your registration has been confirmed to ensure we do not go over the max number we can accommodate. If we exceed the number of attendees our facility can hold, we will start a waitlist with those who registered after the sessions were full.
---
Hands on Locust
May 20th, 2023; 10:00 AM – 12:00 PM
Hands on Locust is an event that gives kids the opportunity to see a variety of service vehicles. This event is free and open to the public. We invite local businesses with service related vehicles and equipment to participate in this event. Trucks, tractors, emergency vehicles, commercial vehicles, equipment, and training resources are all welcome!
Do you own a truck, tractor, or equipment and would like to participate? Email events@locustnc.com for more information.
We would like to thank Locust Pediatric Dentistry for being our sponsor for this year's event! There will be a bounce house at the event, all because of their generosity!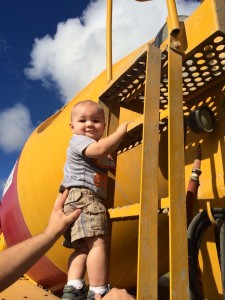 ---
Sprinkle & Splash Summer Events
June 10, 2023 | June 28, 2023 | July 15, 2023 | August 12, 2023
10:00 AM to 12:00 PM
Join us on the above dates this summer to play in the sprinklers and have a blast on the football field at Locust Athletic Complex (beside the tennis courts)!
Please bring your own tent/umbrella, chair, sunscreen, towel and water bottle and come dressed to get wet! Attendees will be given access to water refills and will get one free popsicle!
This is a free event sponsored by the City of Locust. If you have any questions, please email Jessica at events@locustnc.com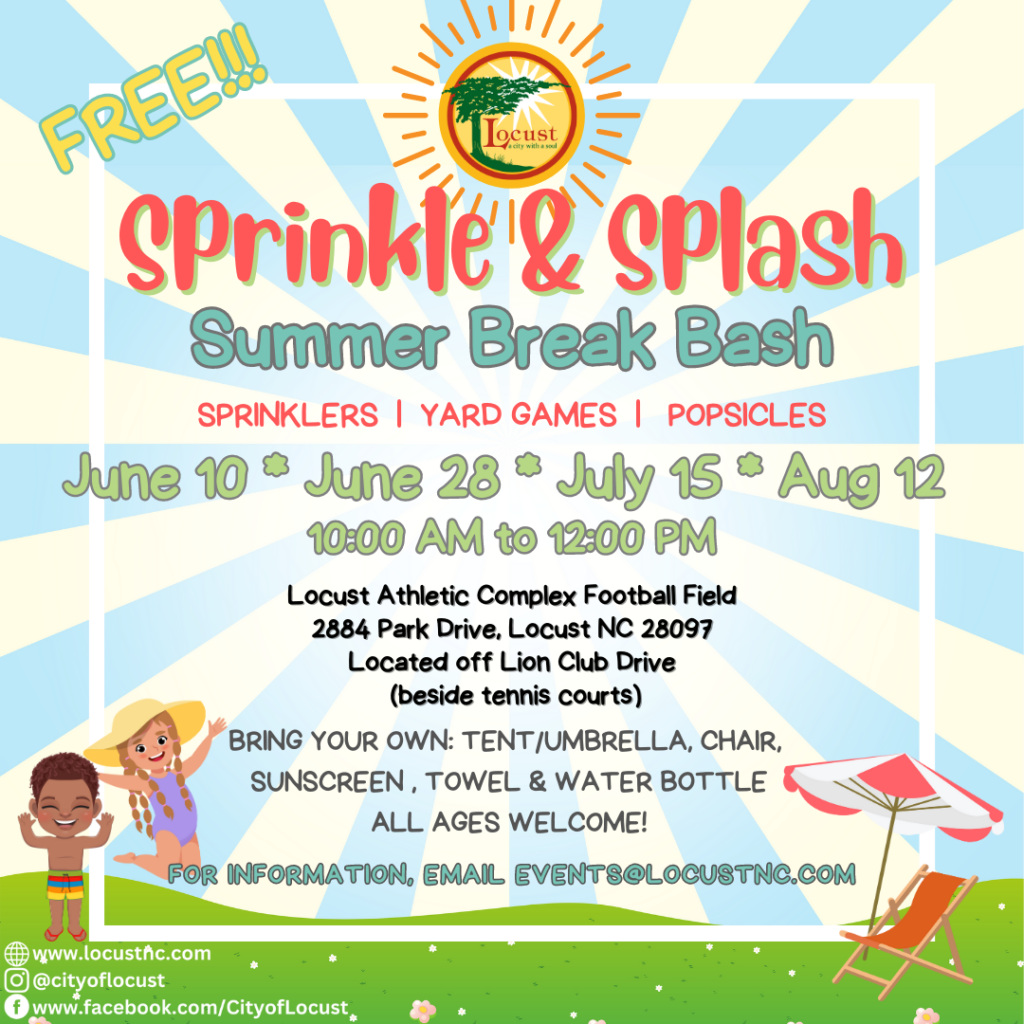 ---
Kids' Night Out
June 30, 2023 | July 28, 2023 | August 25, 2023 | September 29, 2023 | October 27, 2023 | December 1, 2023
6:00 PM to 10:00 PM
Locust Community Building, 2890 Officer Jeff Shelton Drive, Locust, NC 28097
REGISTRATION REQUIRED!
Register here
City of Locust Parks and Recreation will provide pizza and drinks, an activity and movie. Depending on the weather, we may also go to the playground at Jeff Shelton Memorial Park, located beside the Locust Community Building. Please send your child with a water bottle, towel and shoes appropriate for outdoor play.
The cost is $15 for the first child and $10 for each additional child, with an additional $5 non-resident fee per child for those living outside of Locust city limits. Please note that pickup is promptly at 10:00 PM. There will be an additional fee of $5 for every 5 minutes after 10:00 PM.
For more information, contact Jessica at 704-888-5260 ext.116 or events@locustnc.com.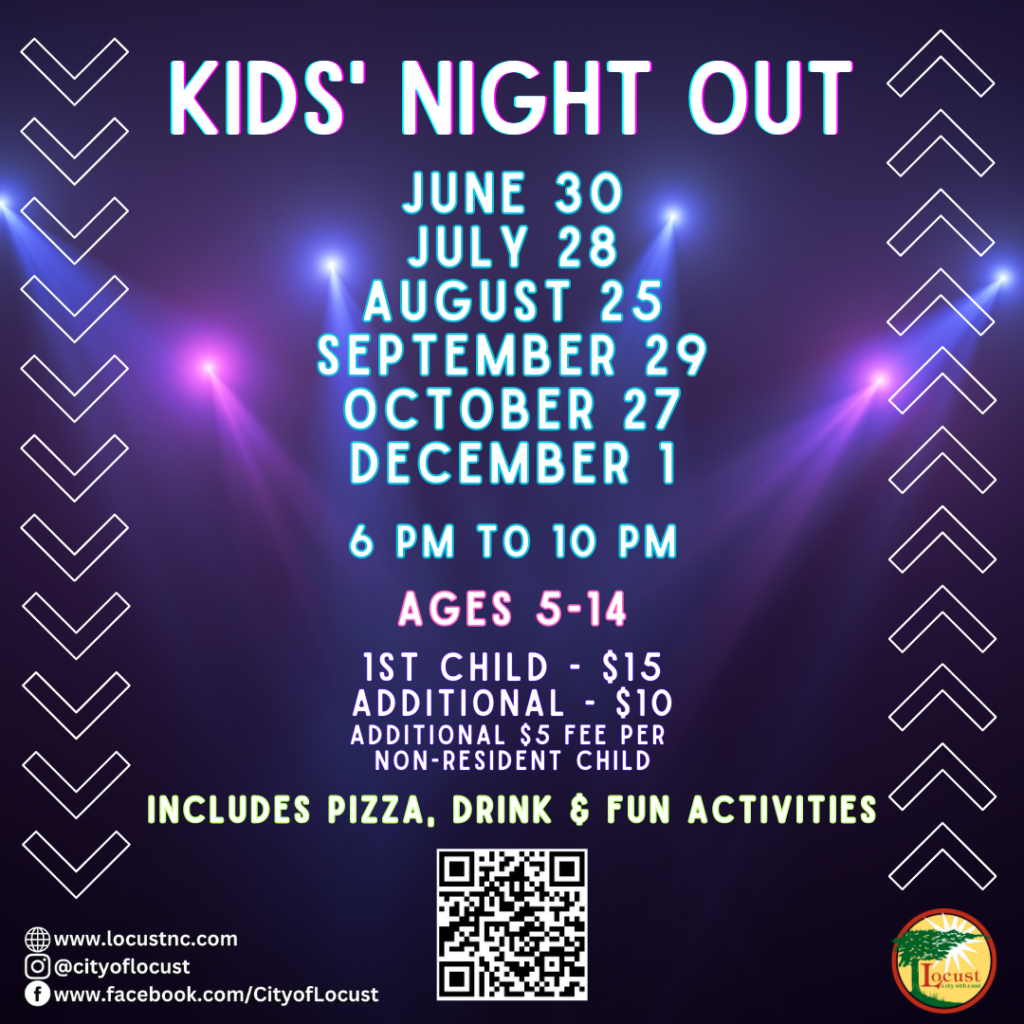 ---
Christmas in Locust
Christmas Parade
December 2, 2023 at 1:00 PM
Register online here after Oct 15th.
---
Light Up Locust

Register online
to have your home or display featured on our Light Up Locust Map. Eligible homes will have their lights featured on our map and website for residents to visit throughout the month of December. Participating homes will be entered to win a prize from a local restaurant. The winner will be drawn on December 12th! Email parks@locustnc.com for more information.
To participate you must:
1. Live on a public street in Locust City Limits
2. Be the primary resident of the home
3. Have an appropriate holiday display on the exterior of your home
4. Live on a street conducive for traffic flow. (Dead-end roads with no cul-de-sac, etc., may be excluded)
---
Reindeer Bell Hunt
Help Santa's reindeer find their bells!
The reindeer were practicing when they lost their bells in Locust City Park. Start with the clue on the second bridge, and find all 9 bells.
Please DO NOT take the bells. Just snap of photo of the bells where they are, and share it on social media, or by email to events@locustnc.com.
Send photos to parks@locustnc.com or tag City of Locust on Facebook/Instagram each week! Find all nine reindeer bells by 24th December and win a prize!
---
Letters to Santa:
Kids in Locust are invited to mail their letters to Santa using the special North Pole Express Mailbox located in front of Locust City Hall from December 1st to December 24th. Letters mailed before the 16th are guaranteed to receive a return letter from Santa himself!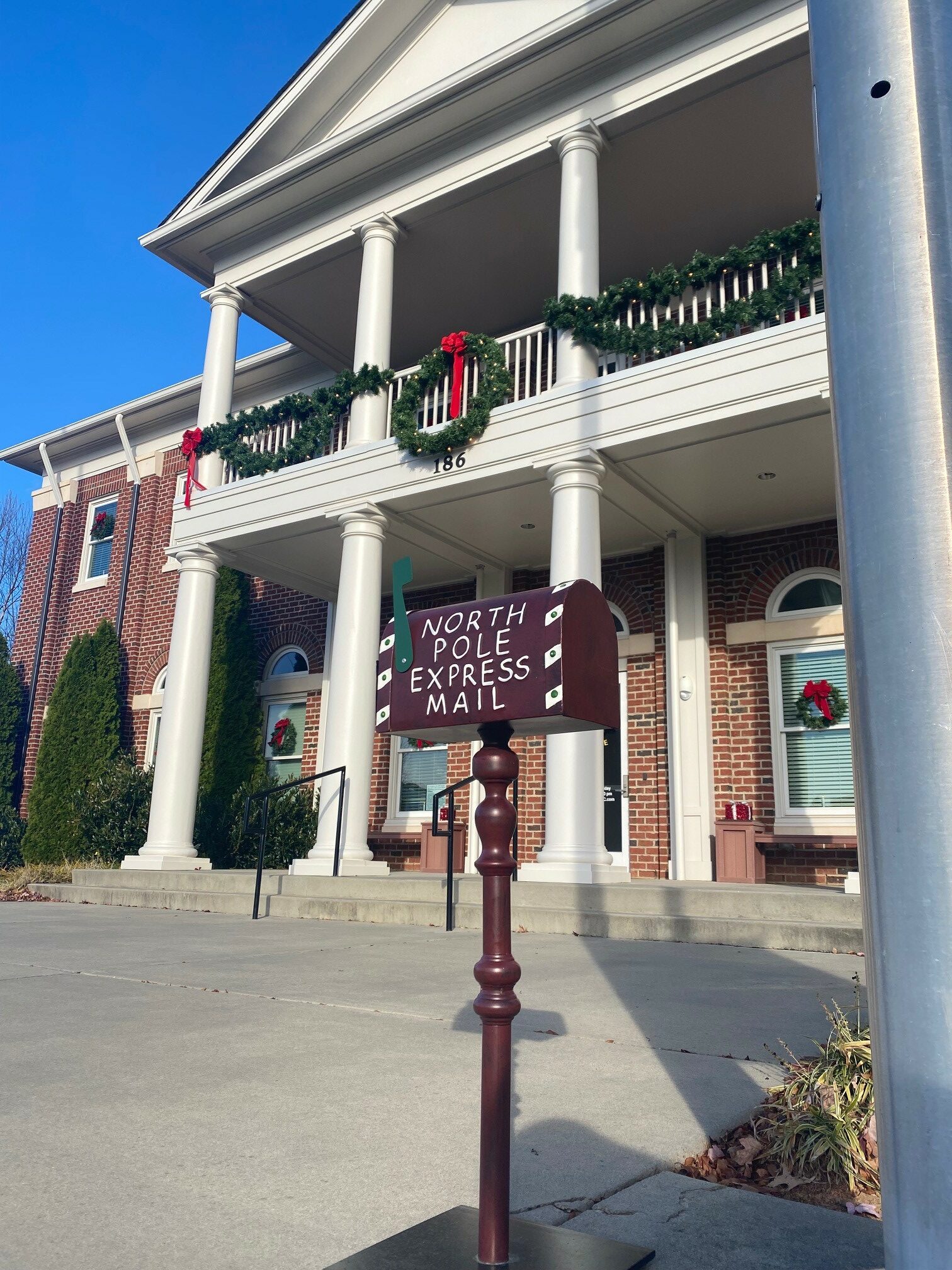 ---
Breakfast with Santa:
December 9th, 2023
Enjoy a morning with our guest of honor, Santa Claus! Join us for a fun holiday party at the Locust Community Building on Saturday, December 9th at 9, 10, or 11 AM. We will have snacks, crafts, and cookies! Entry fee is $5/person, cash upon arrival. Seating is limited and registration is required. Register online here.
---
Locust Fall Festival
October 31, 2023, 6:00 – 8:00 PM.
The event is organized by a committee made up of representatives from local churches and works with the Locust Parks and Recreation Department. Please email Pastor Tommy Ross from First Baptist Church for vendor information.
Dr. Tommy Ross: tommy.ross@firstbaptistlocust.com
Parking is VERY limited. You must park only in designated parking areas.
Parking locations:
Locust City Park (Officer Jeff Shelton Drive)
Lions Club Drive (paved parking lot only)
Locust Elementary School Overflow Parking for Park Events (marked lot at corner of Lions Club Drive and Hwy 200N)
Hwy 200 North Family Restaurant
Locust Lumber Gravel Lot (next to Mechanics. On north side/park side of 24/27)
The Mechanics Auto Shop
No Parking/Tow Zones:
NO street parking
NO parking in grass along Lions Club Drive (this is PRIVATE property)
NO parking at Locust Granite and Tile
---
Vendor and Sponsorship Information
For information about participating as a vendor in our events or event sponsorship opportunities, please visit the sponsorship page or email Program Coordinator, Jessica Honeycutt, at events@locustnc.com.