Locust Parks and Recreation News: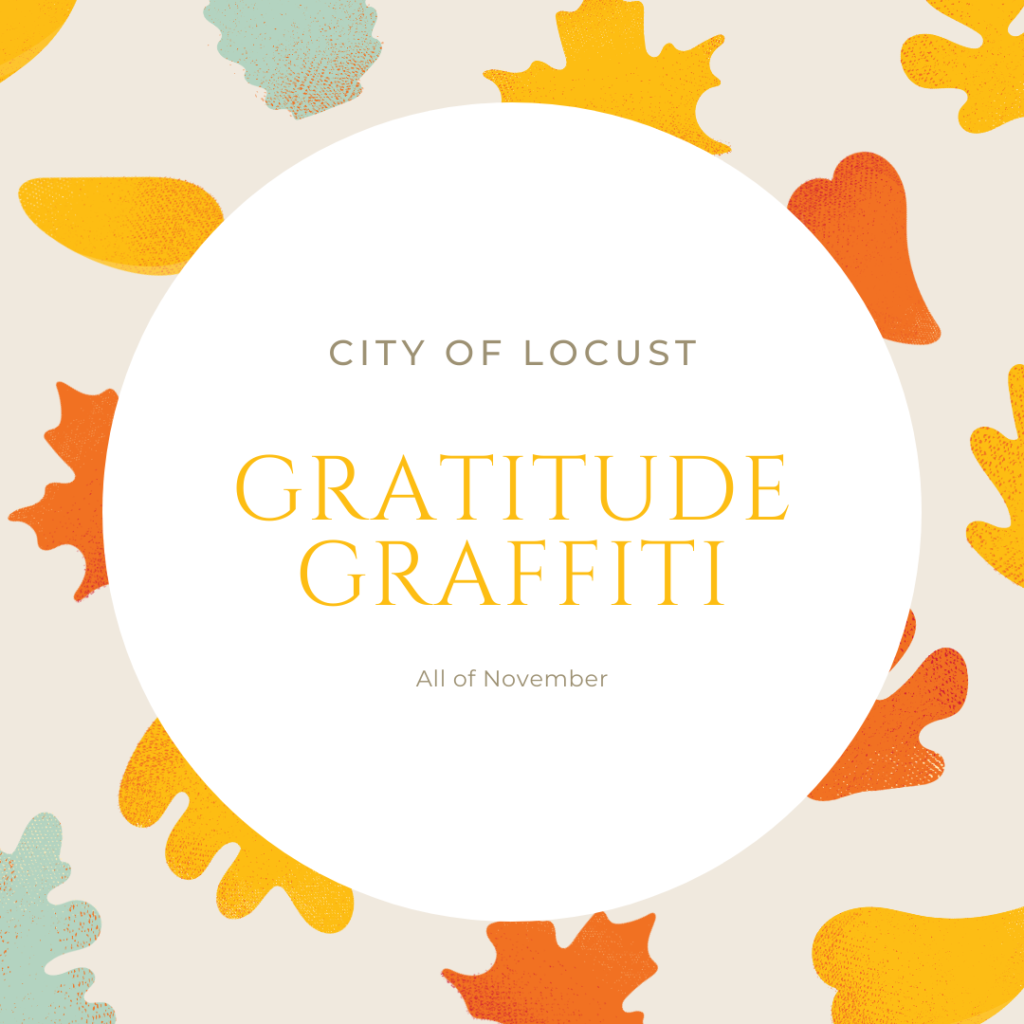 Beginning November 1st through November 30th, the City of Locust invites the public to participate in our "Gratitude Graffiti" project.

The Gratitude Graffiti project is a daily practice of purposeful appreciation of one's life through interactive art.
The project engages residents to 1) Contemplate a source of gratitude in their lives, and 2) Provide an outlet to express that thought of thankfulness in a public setting.
The next time you visit a Locust Town Center or West Main Plaza business, grab an approved chalk marker and write on their storefront window something you're grateful for.
Locust Parks and Recreation Events:
---
Summer Concert Series
Locust's Summer Concerts are free, live musical events held each summer. Since 2010, the community of Locust and surrounding areas have enjoyed the Locust Concerts in Locust's nostalgic Town Center. Concert nights feature bands from different genres including country, beach music, bluegrass, folk, and today's popular hits. The 2.5 acre lawn in the back yard of the Locust City Hall is the perfect venue for our Summer Concert Series. We always close our concert finale with a fireworks show!
Thank you to the 2019 Featured Event Sponsors: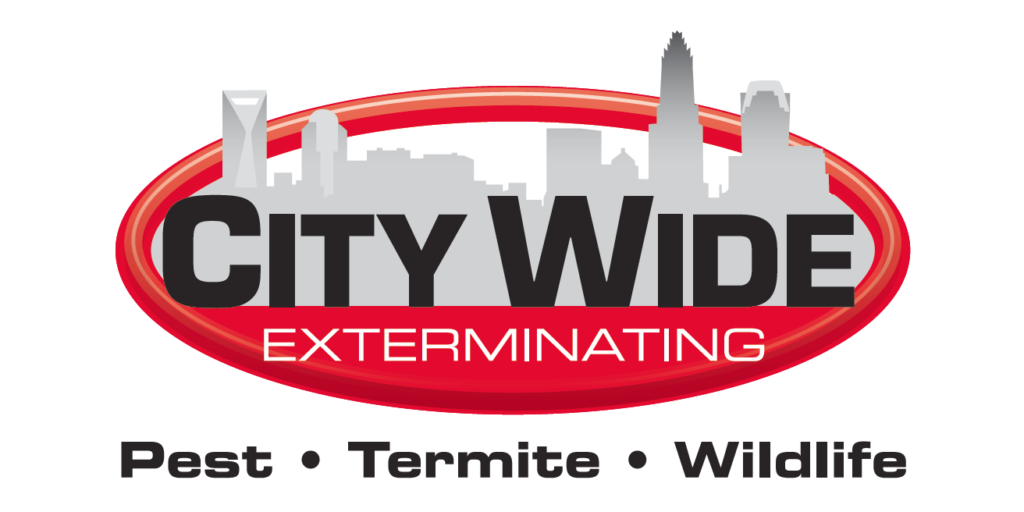 ---
Movies in Town Center
Our movie nights come in two forms: Locust Family Movie Nights and the Locust City Cinema Party.
The Family Movie nights are family-friendly events that typically feature an animated film (usually G or PG rated) and offer kid-friendly atmosphere.
The Locust City Cinema Parties offer a date-night vibe, targeting a wider range of age-groups. The Cinema Party vendors include beer and wine and will feature blockbusters and classics (PG to R rated) popular among adults.
All movies start at sundown, and usually host pre-show activities, so not all start times are the same. Check the City's facebook page for details as the movie dates approach.
2019 Locust Family Movie Nights
April 6: Christopher Robin, sponsored by the Kerri D. Efird Memorial Scholarship
May 25: Trolls, sponsored by Jason Martin DDS, PA
June 1: Aquaman, sponsored by State Farm, Layla Sanders
August 24 (postponed, will reschedule for 2020): Ralph Breaks the Internet, sponsored by Locust Pediatric Dentistry
September 28: Wonder Park, sponsored by Mission Church
October 31: Hotel Transylvania 3, sponsored by Pinnacle Bank
2019 Locust City Cinema Party
May 4: Star Wars: The Last Jedi
November 2: TBD, Facebook movie poll will determine feature film
---
Hands On Locust
May 4th, 2019, 10:00am – Noon
Hands On Locust is an event that gives kids a chance to climb in, sit on, and learn about the variety of service vehicles in the Locust area. The event is free and open to the public. Come see dump trucks, tractors, and more!
Do you own awesome trucks, cars, equipment, or tractors? Contact our Recreation Assistant for information about participating in the event.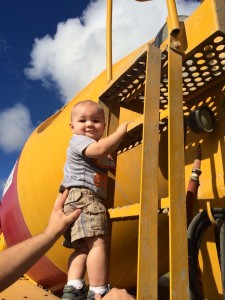 ---
Breakfast with Santa
December 14, 2019
Enjoy a pancake breakfast with our guest of honor, Santa Clause! Participating children will decorate an ornament and cookie, families will enjoy a pancake and sausage breakfast, and Santa Claus will join in on the fun!
Each person, adults and children ages 2 and up, must purchase a ticket. Reservations are required. $10 per person. Seating is limited. Your seat will not be reserved until payment is received.
---
Locust Fall Festival
October 31st, every year, 6:00 – 8:00 PM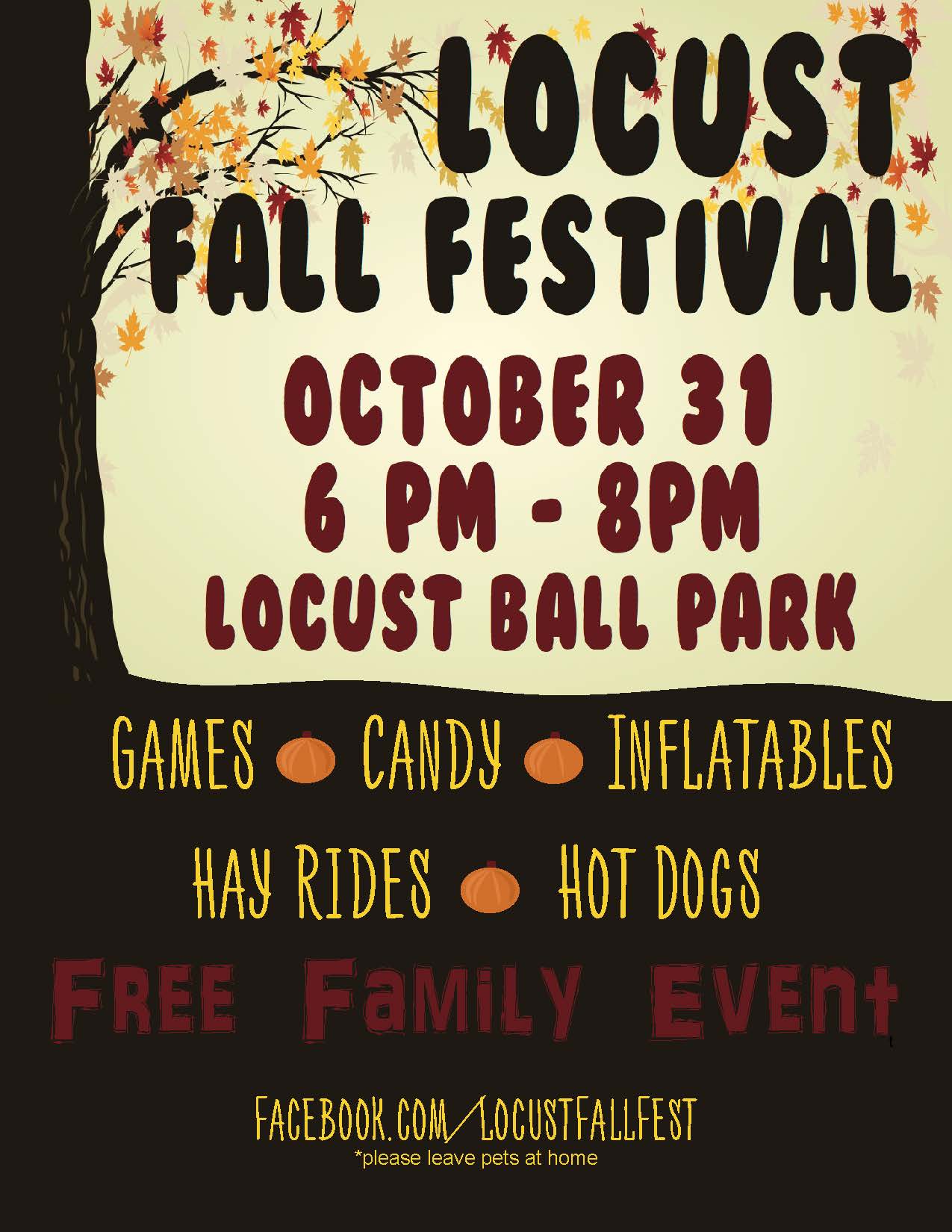 The Locust Fall Festival Committee is planning the 6th Annual Locust Fall Festival for October 31, 2019, from 6-8PM.
Businesses, churches, and organizations are invited to participate in the event and must complete this form and email to Tommy Ross, pastor of First Baptist Church of Locust and Chairperson of the committee.
The Locust Fall Fest is an annual event located on ball field #4 at the Locust Athletic Complex. The event will take place the same date, time, and location each year.
The event is organized by a committee made up of representatives from local churches and works with the Locust Parks and Recreation Department.
Children are welcome to come in costume and visit each booth for games and candy. The event is entirely free.
Please no outside food or drink. Please leave pets at home.
---
Vendor and Sponsorship Information
For information about participating as a vendor in our events or event sponsorship opportunities, please visit the sponsorship page
or call/email Park Director, Emily Jones, at parks@locustnc.com or 704-888-5260 ext 105.