Park News
Park Events
Vendor and Sponsorship Information
---
Park News:
Park Events:
End of Summer Celebration
September 17, 2022 – featuring the SouthSide Saints
Concert begins at 6:00 PM.
Fireworks end the night at 9:00 PM
Locust's End of Celebration is a weekend of free, live musical events held in September. Since 2010, the community of Locust and surrounding areas have enjoyed the Locust Concerts in Locust's nostalgic Town Center. In 2019, the City of Locust held a weekend-long festival for its 150th Anniversary. It was such a hit, we have decided to host an End of Summer Celebration this year. This weekend festival will feature bands from different genres including country, beach music, bluegrass, folk, and today's popular hits. We always close our concert finale with a fireworks show!
---
Movies in Town Center
Our movie nights come in two forms: Locust Family Movie Nights and the Locust City Cinema Party.
The Family Movie Nights are family-friendly events that typically feature an animated film (usually G or PG-rated) and offer a kid-friendly atmosphere.
The Locust City Cinema Parties offer a date-night vibe, targeting a wider range of age-groups. The Cinema Party vendors include beer and wine and will feature blockbusters and classics (PG to R rated) popular among adults.
All movies are located behind Locust City Hall, start at sundown, and usually host pre-show activities, so not all start times are the same. Check the City's Facebook page for details as the movie dates approach.
April 2,  6:45 pm – Disney's Encanto sponsored by Main Street Family Care
May 14, 7 pm – Tom & Jerry (2021) sponsored by Community Church
September 24, 6:30 pm – Overcomer sponsored by Jason Martin, DDS, PA
October 8, 6 pm – Sing 2 sponsored by Mission Church
2022 Locust City Cinema Parties
June 4, 7 pm – Field of Dreams,
sponsored by Main Street Family Care, Layla Sanders State Farm, Buzzed Viking Brewing Company, J&M Food Shack
October 22, 6 pm – Hocus Pocus
sponsored by Deeter Real Estate Agents Kristen Huneycutt and Jenna Burleson, and Atlantic Mortgage Group's Robin Davis.
---
Hands on Locust
August 20, 2022, 10:00 am-Noon, Locust Town Center
Hands on Locust is an event that gives kids a chance to see the variety of service vehicles in the Locust area. The event is free and open to the public. Come see a parade of dump trucks, tractors, and more!
Do you own awesome trucks, cars, equipment, or tractors? Contact our Recreation Assistant for information about participating in the event.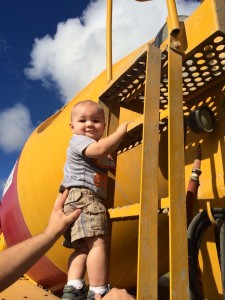 ---
Christmas in Locust
Christmas Parade
December 3rd, 2022 at 1:00 PM
Register online here.
---
Light Up Locust

Register online
to have your home or display featured on our Light Up Locust Map. Eligible homes will have their lights featured on our map and website for residents to visit throughout the month of December. Participating homes will be entered to win a prize from a local restaurant. The winner will be drawn on December 12th! Email parks@locustnc.com for more information.
To participate you must:
1. Live on a public street in Locust City Limits
2. Be the primary resident of the home
3. Have an appropriate holiday display on the exterior of your home
4. Live on a street conducive for traffic flow. (Dead-end roads with no cul-de-sac, etc., may be excluded)
---
Reindeer Bell Hunt
Help Santa's reindeer find their bells!
The reindeer were practicing when they lost their bells in Locust City Park. Each week in December, new bells can be found in the park. Visit each week and find all 9 bells!
Please DO NOT take the bells. Just snap of photo of the bells where they are, and share it on social media, or by email to parks@locustnc.com.
Send photos to parks@locustnc.com or tag City of Locust on Facebook/Instagram each week! Find all nine reindeer bells by the end of December and win a prize!
---
Letters to Santa:
Kids in Locust are invited to mail their letters to Santa using the special North Pole Express Mailbox located in front of Locust City Hall from December 1st to December 24th. Letters mailed before the 16th are guaranteed to receive a return letter from Santa himself!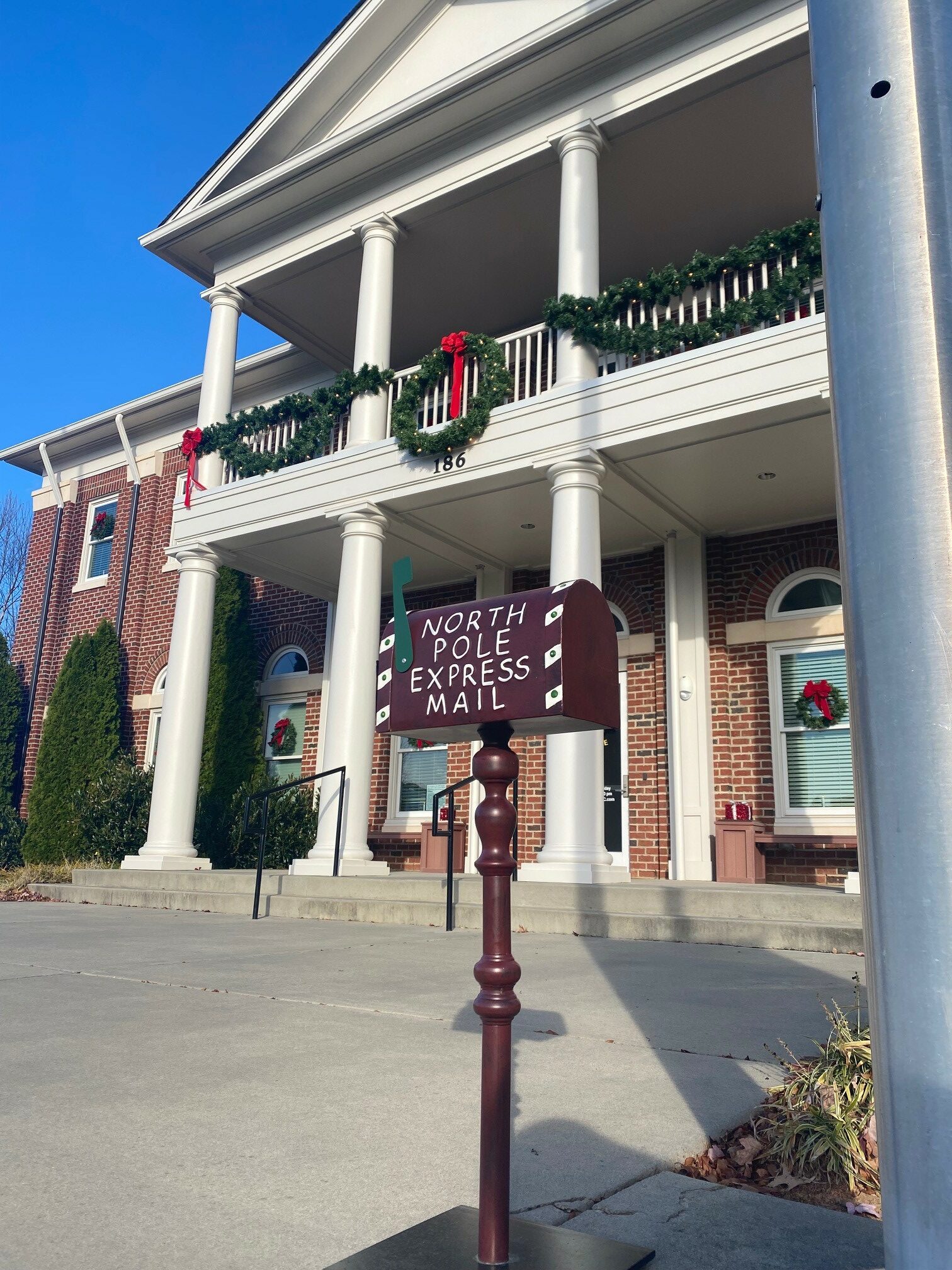 ---
Breakfast with Santa:
December 10th, 2022
Enjoy a morning with our guest of honor, Santa Claus! Join us for fun holiday party at the Locust Community Building on Saturday, December 10th at 9, 10, or 11 AM. We will have snacks, crafts, and cookies! Entry fee is $5/person cash upon arrival. Seating is limited and registration is required. Register online here.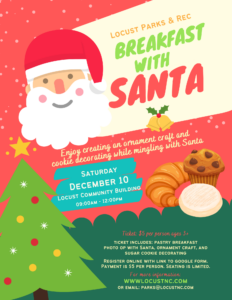 ---
Locust Fall Festival
Postponed to November 1, 2022, 6:00 – 8:00 PM.
The Locust Fall Festival committee has made the decision to postpone the fall fest to tomorrow, Tuesday, November 1, due to the forecasted inclement weather.
"Due to the predicted decline in the weather today, the Locust Fall Festival will be moved to Tuesday, November 1st with the same time of 6 to 8 pm. Parking will be as previously posted.Hope to see you then!
" (Locust Fall Festival Facebook Page)
The event is organized by a committee made up of representatives from local churches and works with the Locust Parks and Recreation Department. Please email Pastor Tommy Ross from First Baptist Church for vendor information.
Dr. Tommy Ross: tommy.ross@firstbaptistlocust.com
Parking is VERY limited. You must park only in designated parking areas.
Parking locations:
Locust City Park (Officer Jeff Shelton Drive)
Lions Club Drive (paved parking lot only)
Locust Elementary School Overflow Parking for Park Events (marked lot at corner of Lions Club Drive and Hwy 200N)
Hwy 200 North Family Restaurant
Locust Lumber Gravel Lot (next to Mechanics. On north side/park side of 24/27)
The Mechanics Auto Shop
No Parking/Tow Zones:
NO street parking
NO parking in grass along Lions Club Drive (this is PRIVATE property)
NO parking at Locust Granite and Tile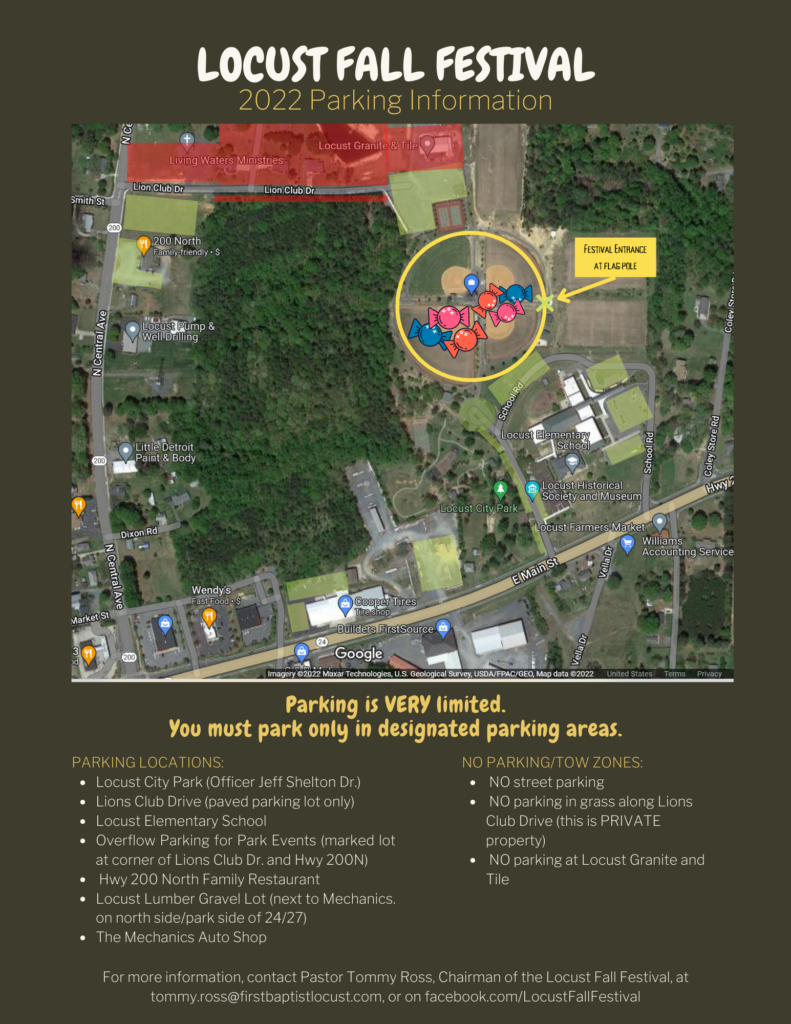 ---
Vendor and Sponsorship Information
For information about participating as a vendor in our events or event sponsorship opportunities, please visit the sponsorship page or call/email Park Director, Emily Jones, at parks@locustnc.com or 704-888-5260 ext 105.